Pet Helpers is pleased to be able to offer spay and neuter assistance to residents of Marion and Taylor counties thanks to funds provide by the Peterman Foundation.  For info email spayme@pethelpersinc.org.
IT'S HERE.  Pet Helpers' first ever - Rescue Calendar. Each and every pet featured in this calendar is a former rescue animal with us. In addition, there is a special page dedicated to our very own lost rescue angel this year - Sheree Nixon.
Calendars can be ordered online starting now! They can also be purchased at Hickman Run Animal Hospital, Middletown Animal Clinic or Whitehall Animal Clinic, OR purchased from any Pet Helpers Volunteer starting the week of 11/27.
This will make a perfect gift for all of the animal lovers in your family!
Adoption Event at PETCO
Jan. 6th and 20th 12:00pm - 4:00pm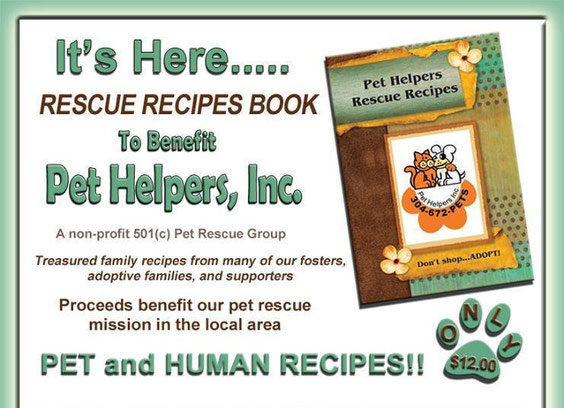 Back by popular demand and just in time for holiday gift giving!!! Maybe you already got one of our cookbooks but liked it so well you will want to get more for gifts. Maybe you are new to Pet Helpers and didn't get a cookbook the first time around. The price is $12 and for just $3 more, we will be happy to mail the cookbook anywhere in the USA. The cookbooks will be available at locations to be announced soon, from Pet Helpers volunteers and from events leading up to the Holiday season. To order your cookbook(s) today, use the donation button on this page.
Did you know we have a Wishlist on Amazon?
If you purchase any of the items on our wishlist, they will be mailed directly to us.  These items go directly to the care of the pets we have in foster homes waiting to find their forever family.
Don't forget to use Amazon Smile and register Pet Helpers as your non-profit charity. Amazon donates 0.5% of the price of your eligible AmazonSmile purchases to the charitable organization of your choice.
Type  Pet Helpers, Incorporated in the search and verify that the location is Fairmont, WV                                                  
These are some of the donations we received this week!  Thank you to everyone who has selected items from our wishlist to support our pets!