Rescue Stories from the years......
---
2017 Logar
After first being bitten and taken to the vet....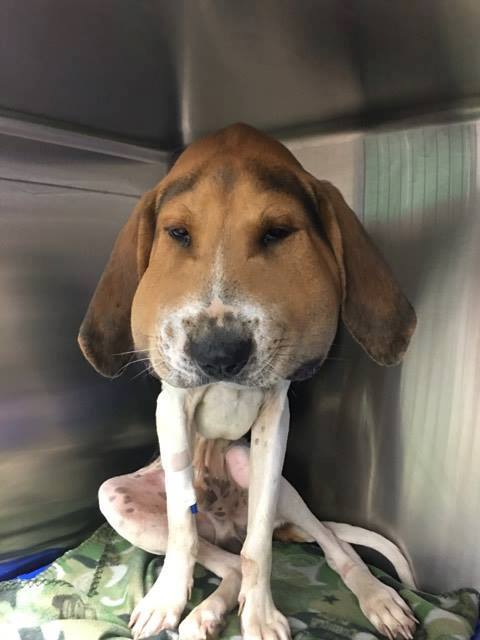 The picture that made him famous.....at his worst with swelling.
Logar was found after having been bitten by a poisonous snake.  Pet Helpers treated him and gave him love and quiet to recover and then he was adopted by a loving family.  He made national news and made us famous because of the severe swelling he had.  He was one lucky boy!!!
---
2017 Susie Q 
A horrible case of mange and neglect
Immediately upon rescue....
HER STORY....
Susie Q was being sold on one of the yard sale sites in the southern part of the state, how could you look at her every day and think this is ok? Her skin was infected, her ears were a mess inside and out.  She had demodex mange and probably sarcoptic mange. She was itchy, miserable and dejected. Upon rescue she visited our vet and was put on antibiotics and received medicated dips once a week.  She was put on grain free food and given lots and lots of love and tender care. It took some time, but eventually her foster mom began to see her head return to it's proud position and her hair grow back in.  After her complete return to full health, she was adopted into a loving home.
---
Bruno came to Pet Helpers from a neighboring county Animal Control. He had been hit by a car, and spent several days waiting for his owner to be found. When the owner was located, she surrendered him to Animal Control, and Pet Helpers took him in to get him help. He spent several days at our vet's office, while experts determined a course of treatment. He could not walk. He began to lose pain sensation in his feet, so it was decided he should have surgery immediately.
Bruno had spinal surgery on July 3, and several plates and screws were surgically implanted to secure two broken vertebrae. He still is unable to stand or walk, but is comfortable and in great spirits.
He is a wonderfully sweet boy, who is getting to know the other dogs in his foster home. He is getting daily physical therapy, and foster mom assists him with a special harness. He has a great friendly personality, and loves attention. He has a fighting spirit, and we are all hoping and praying that he will regain function in his rear legs over the next several weeks and months. Bruno deserves this chance to have a good recovery, but will be fitted with wheels if that recovery doesn't go as hoped.
---
2017 Andy and Annie
Living in filth
Before rescue - at Animal Control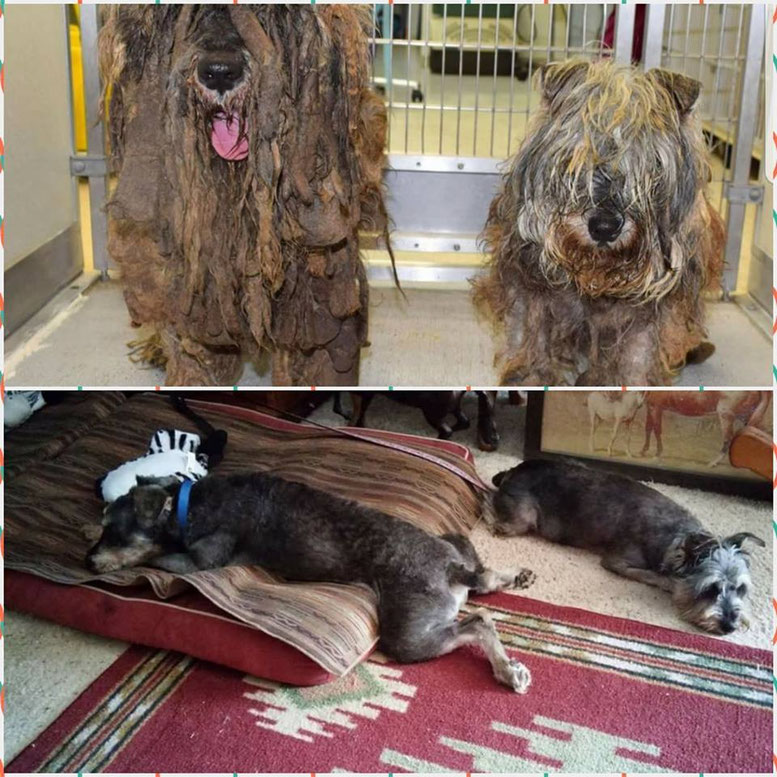 In rescue after grooming and some TLC.  They were adopted together and are living a happy life in their adoptive home.
---
2013 Blossom
Another sad case of neglect and mange
Upon her arrival to Pet Helpers.....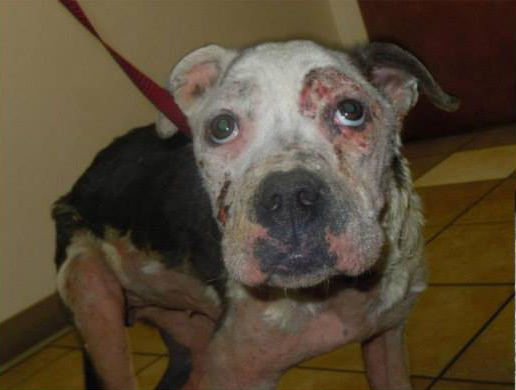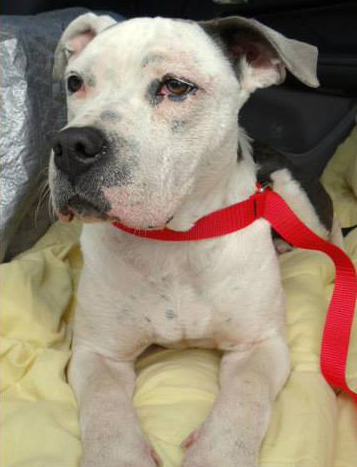 After her rehabilitation and adoption....
---
2017 Brena
Another sad case of neglect and mange
Upon her arrival to Pet Helpers.....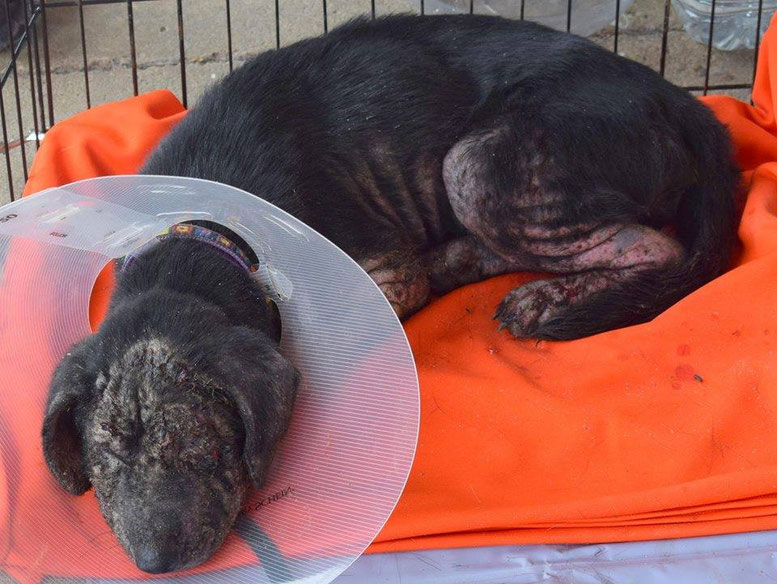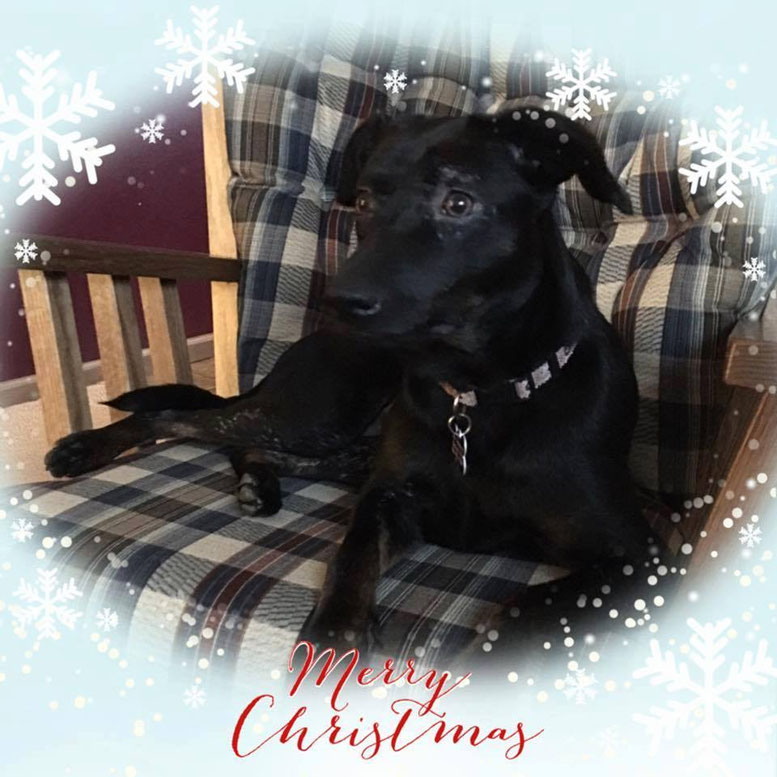 After she was adopted.....
Brena arrived to us on a transport during our September Petco event where we set her up in a play yard till the event was over. She was swollen, oozing, horribly infected and bloodied and just the saddest little girl we had ever seen. She deeply touched all who saw her that day so it was a wonderful Christmas for us all that she got a new family just in time for Christmas.
---
2017 Cubby
Another case of neglect 
Upon her arrival to Pet Helpers.....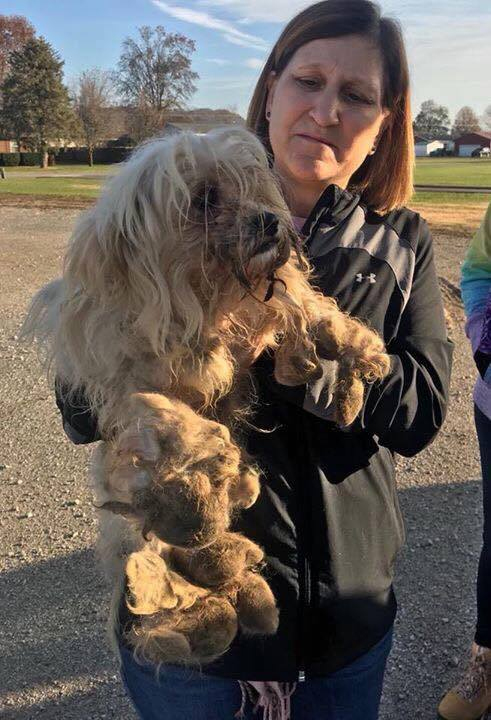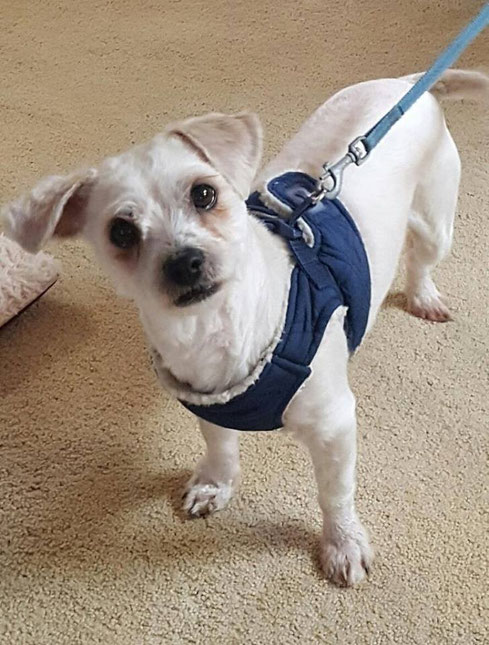 After her adoption.....
In 2017, Pet Helpers helped Cubby find his feet!  And low and behold, he was a beautiful little white dog!  Santa brought Cubby a new family for Christmas that year.
---
2017 Dynomite Supa Starr
Another case of abandonment
Upon his arrival to Pet Helpers.....          After some TLC.....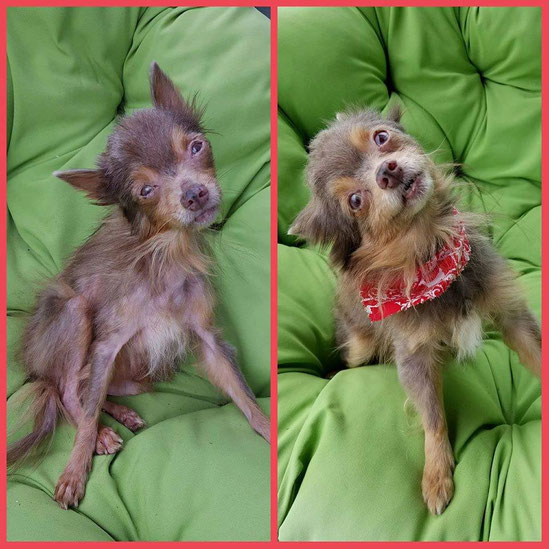 2017 has brought to Pet Helpers some dogs in very sad condition. The good news is one of the most rewarding things we do is turn them around both physically and mentally. We rarely know what their life story is and are often left to assume based on their conditions that they have had a hard life maybe not all their life but when we get them it is hard to believe anyone ever loved them. Such is the case with our Dynomight Suppa Starr. He came to us after being found thrown over a hill in a corn sack. He was unable to stand, he could barely hold up his head and his eyes were dull and full of despair. Pictured below is DynoMight when we first got him and DynoMight now. Dyno still has some issues, but he is a completely different dog now. He looks so old, delicate and frail in the first pic. Look at him now. There is so much love and light in his eyes. You can definitely tell a lot by a dogs eyes. ♡ And we are happy we were able to put life and sparkle back in this little dogs beautiful soulful eyes. 
---
2017 Gulliver
Shot and dumped
After his surgery to remove the bullet...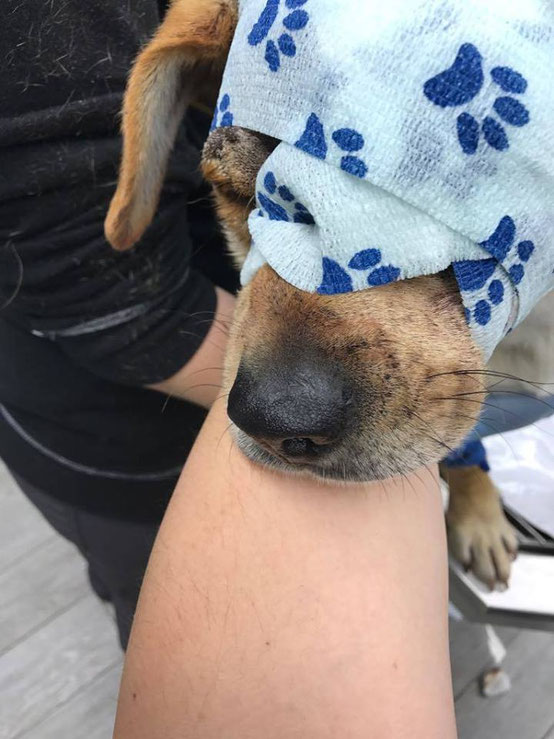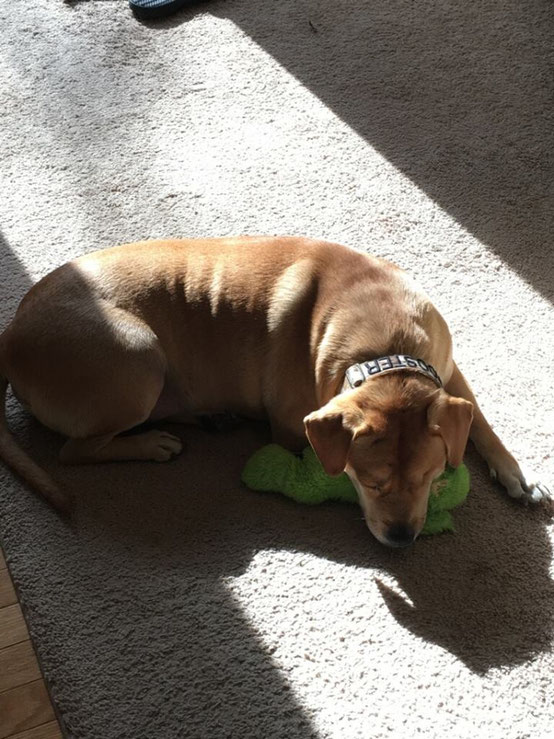 After he healed and was adopted...
The elusive Gulliver, who was roaming through Marion County, obviously wounded and starving for more than a week.  We had report after report of sightings, but trapping him took a team effort.  Our super sleuth, Sheree stalked him night after night, and finally a little over a week from the first report, she had him.  After surgery to remove a bullet from his head and now, napping in the sun with one of his favorite toys...
---
2017 Mickey
Mange and neglect - left out in the cold to fend for himself
Upon his arrival to Pet Helpers....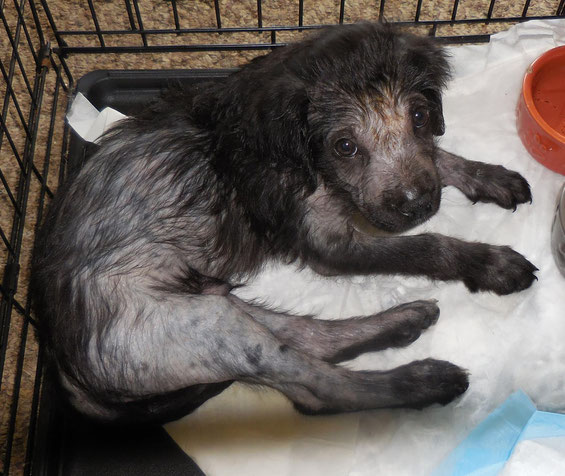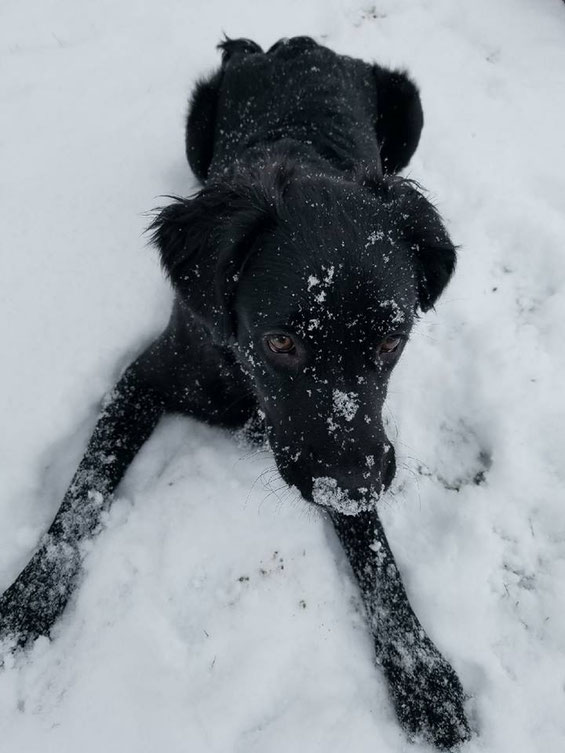 After he healed and was adopted...
Once he healed up and grew his hair back, Mickey enjoyed playing outside in the snow.  But, he was really grateful to have a nice warm home to come back into after he was done playing.
---
2017 Rooney
Mange and neglect
Upon her arrival to Pet Helpers.....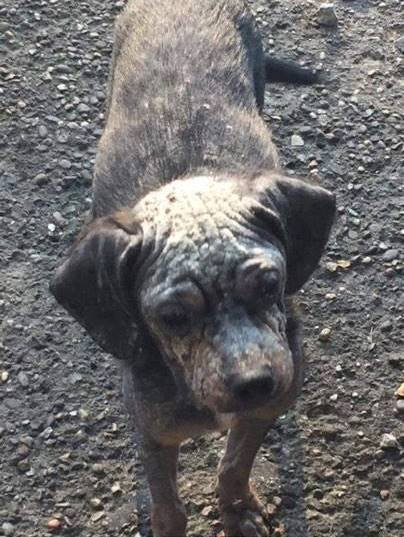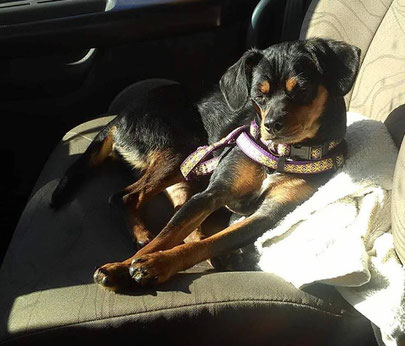 After she healed and was adopted...
Rooney came to us from a shelter in the southern part of West Virginia.  After medical treatment and healing in his foster home, Rooney was adopted to a truck driver and now spends her time traveling the country and being loved.  Her name is now Arya.
---
2017 Shyla
Starvation and neglect
Upon her arrival to Pet Helpers.....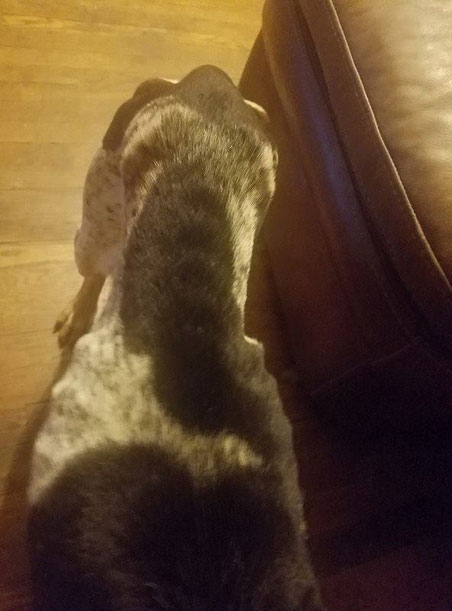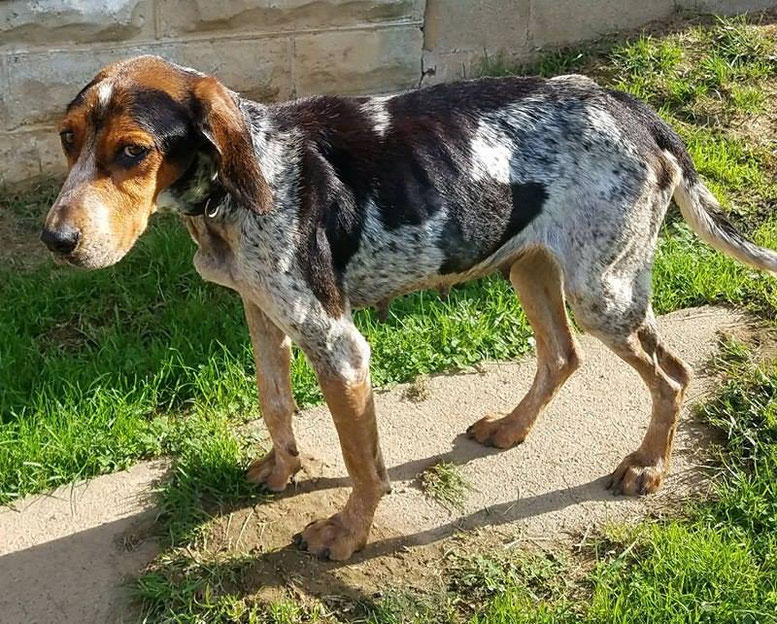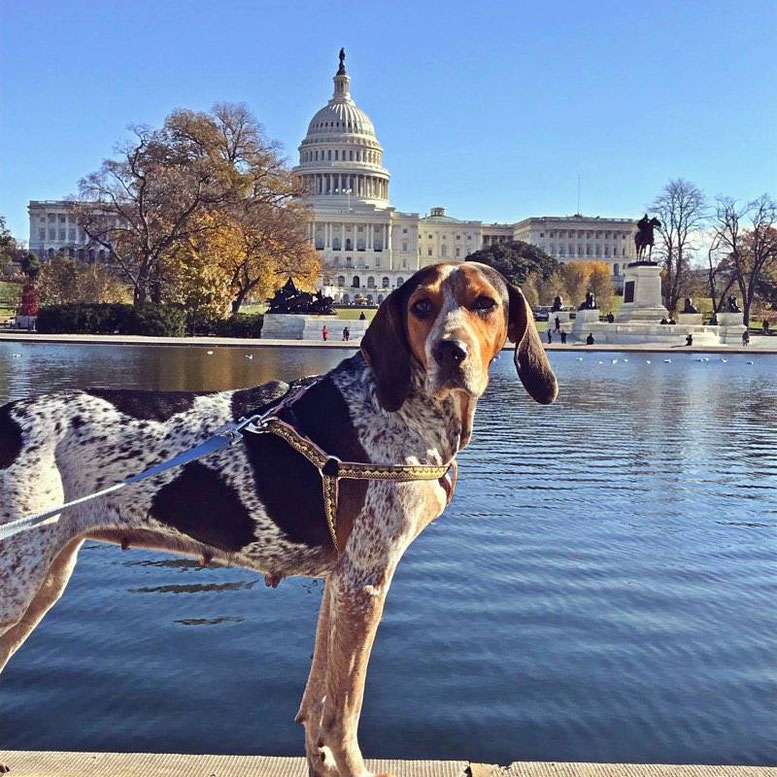 After she healed and was adopted...
Shyla came to us in 2017 emaciated and depressed after spending time in a neighboring county shelter. Today she is fully recovered...a hound dog living in our nations capitol.
---
2017 Theo
His living conditions prior to rescue - deserted by his family and fending for himself.....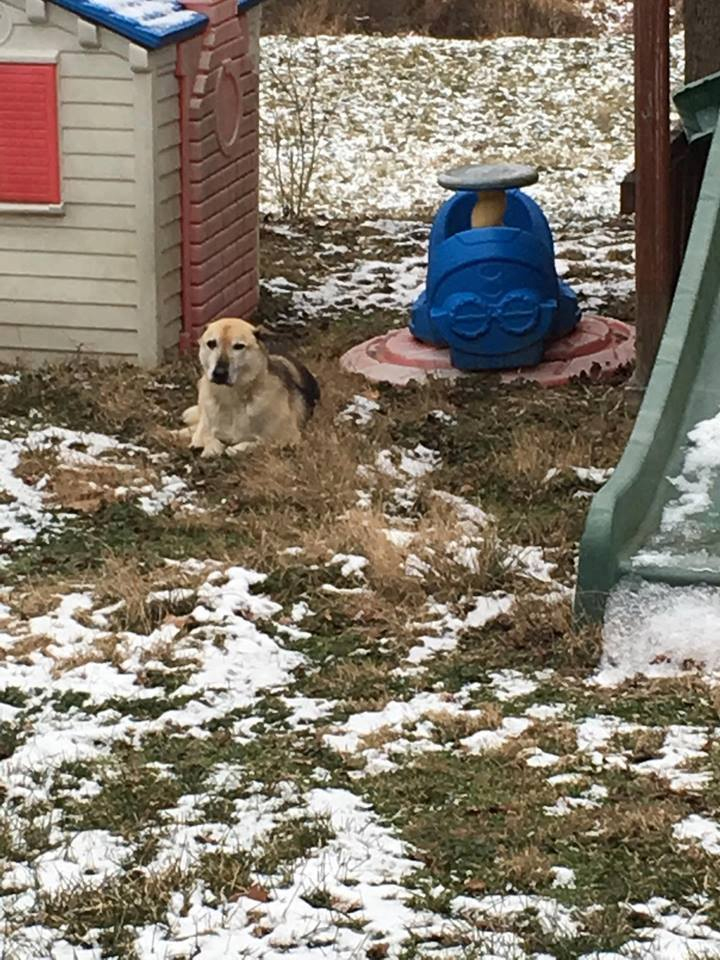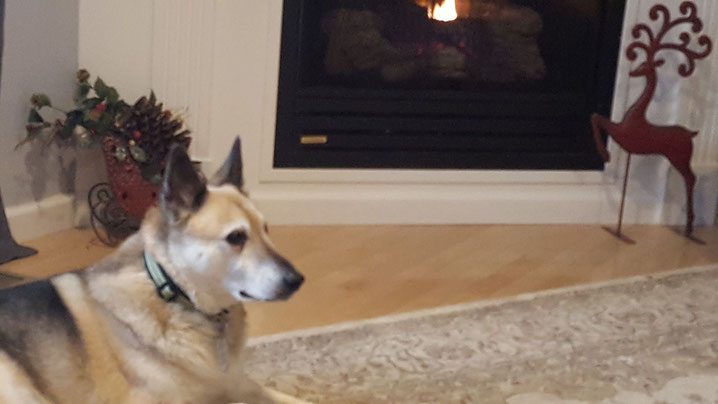 After he was nursed back to health and adopted.
What pet owner hasn't wished at some point that their pet could talk...just a little. Maybe they could clue us in why they are still whining when they have been out, been fed, gotten a treat, a pat on the head and some cuddling but they are still sitting there pawing at your leg, eyes pleading with you for something. I think that people involved in rescue probably say it even more often because of some of the pets we encounter. Last week I was informed about a dog at a property for sale. There are no people at this property that is 3-4 miles off the secondary road. It is located almost at a dead end with just 2-3 homes past this empty home. There is an open building full of trash and crap, junk and debris litter the area, children's toys and a little plastic kids playhouse are on one side of the home and a for sale sign greets you as you pull in the driveway. The For Sale sign is what lead to the rescue of the dog we are now calling Theo. To the surprise of the person that drove that long desolate road to look at this piece of property a dog was laying under the pine tree when she pulled in. He warily got up and ambled off as she tried to get closer to him. And he watched from the field as they looked around the property. Lucky for Theo his angel is a huge animal lover, a former Pet Helpers foster, and someone who isn't going to go home and have a good nights sleep thinking about this dog and so she goes back the next day with food and water and few days later she added straw to the building for him because it was going to be 8 degrees out that night and that same day she contacted me with Theo's story. Since finding him she had found someone that had looked at the property in August.....and Theo was there then. On Sunday we loaded up the trap and made the trip out to bring Theo home. Only Theo knows if we removed him from his home where he lived with a family till they moved without him or if he was a lost soul that came upon an empty home and decided that was as good a place as any to settle for the next 5 months or more. Really we don't know how long he has been there. As we pulled out of the driveway and started down the road Theo looked out the back window and whimpered and whined and sometimes howled as he watched his home go out of sight. As if to say "what if they come back for me and I am not here.....I have been waiting what if they come back." And I said buddy they aren't coming back for you. Maybe I have the story wrong.....maybe that isn't what Theo was saying. If only they could talk.
---
2017 Tibet
Found very sick and in bad condition.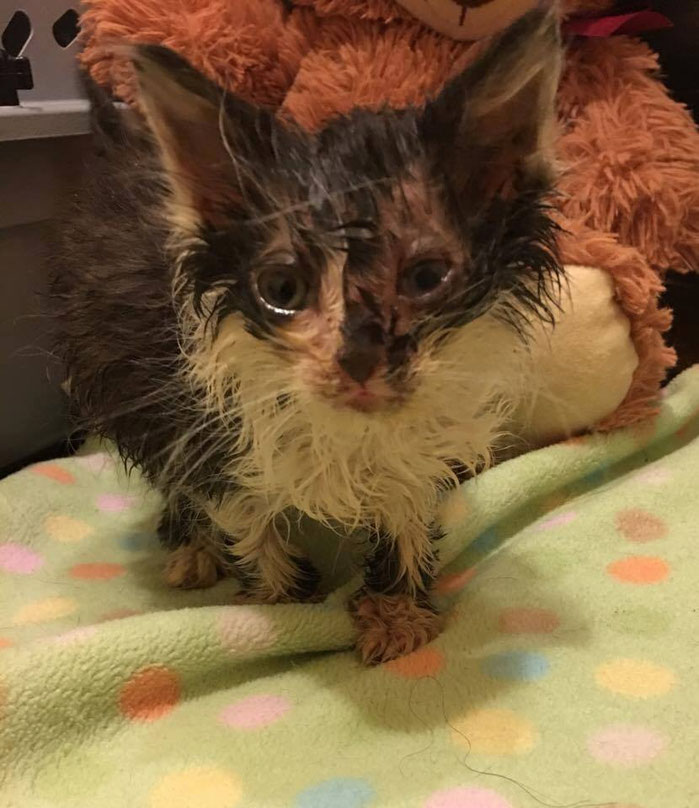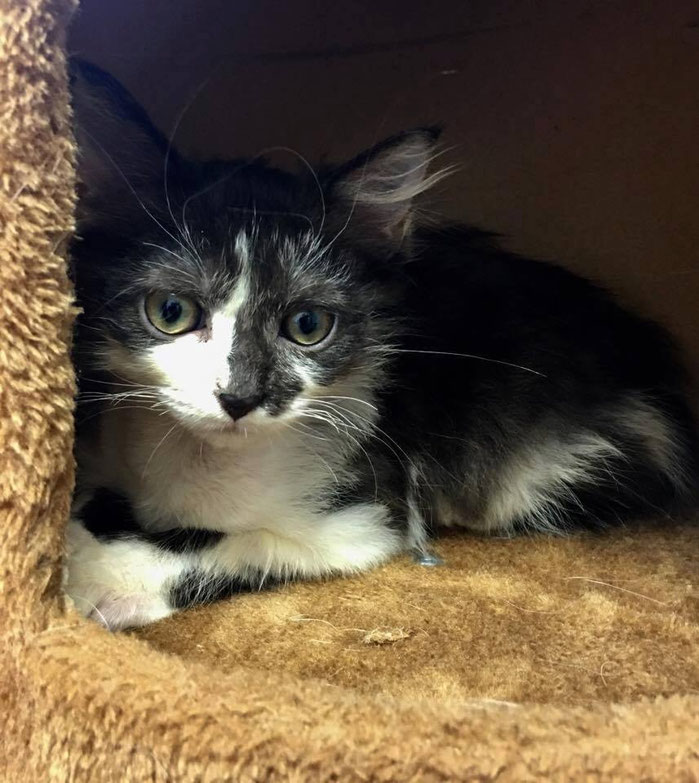 Nursed back to health and adopted to a loving home
---
2017 Treasure
Emaciated condition when arriving at Pet Helpers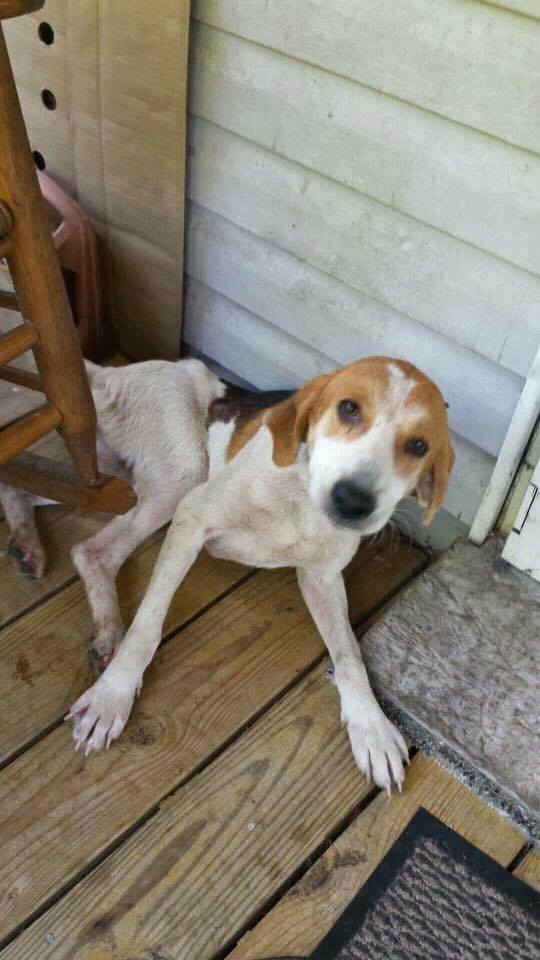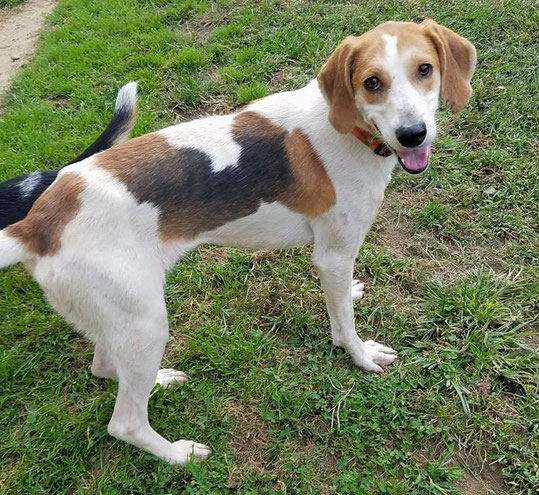 Treasure came to us from down south in 2017 so emaciated and lacking in nutrition she could barely walk. Just look at her now standing proud and adopted into a wonderful home. Our foster families do a great job!!
---
2017 Wilhelmina
Mange, mange, and more mange....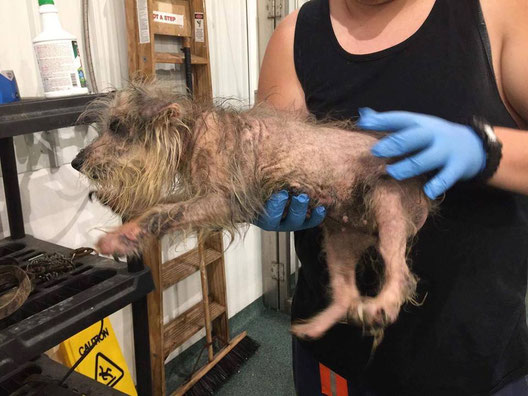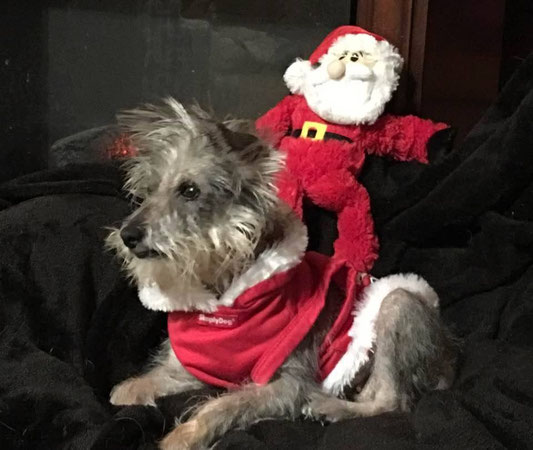 Wilhelmina came from a puppy mill/hoarder down in Southern WV. This little girl lived her life having litter after litter with no medical care. She is blind due to dry eye syndrome never being treated. When she first came into Pet Helpers all she did was spin in circles. Her foster mom said she has learned to love being touched and her medicines have made her feel so much better. Wilhelmina's hair is growing back now that she is eating quality food.
---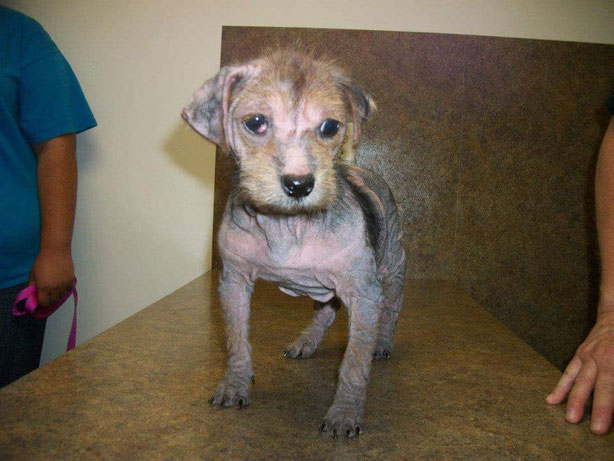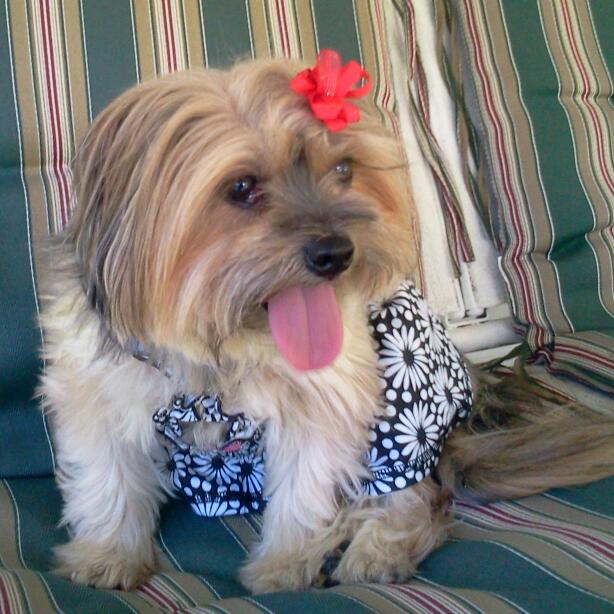 ---
2016 Rosie
Horribly broken leg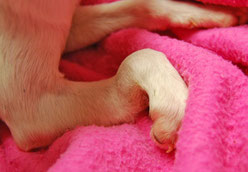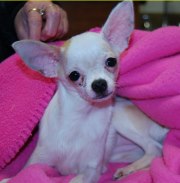 After surgery and healing she was adopted.
---
2015 Teagen
Mange, neglect and starvation - poor baby!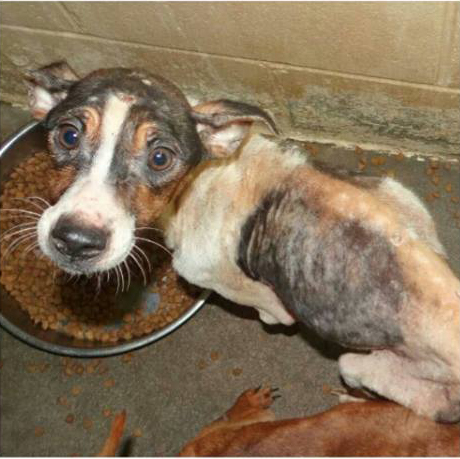 ---
2013 Venus
Maybe the worst case of mange we have seen.....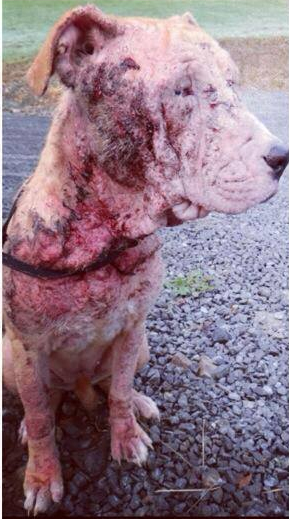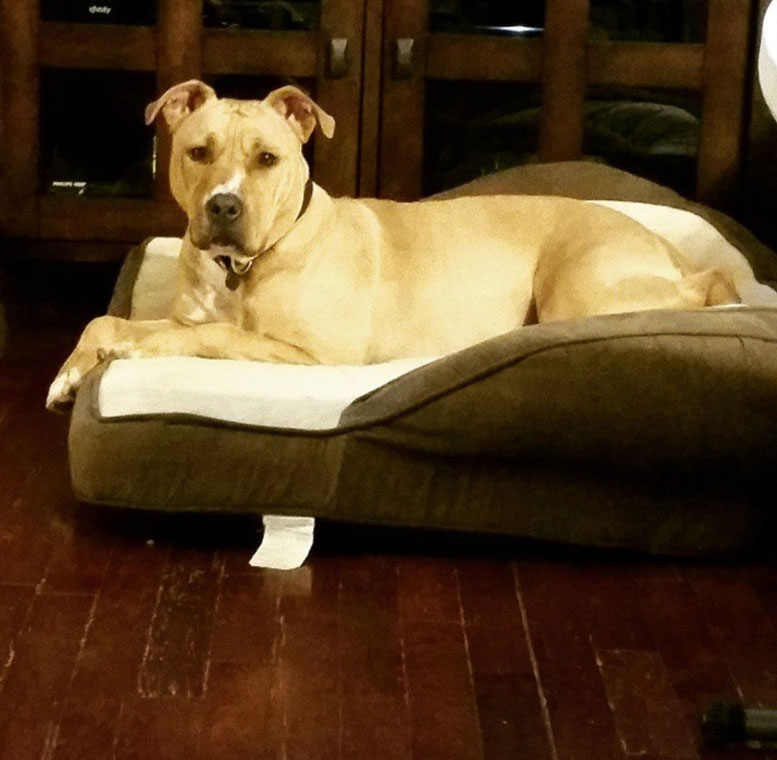 An Adoption Story...
Venue was surrendered to Animal Control in early November, 2013. Covered in blood and suffering from chronic demodex mange, ear infections, and a painful eye problem, she "almost" resembled a bully type dog, but it was impossible to be certain due to the large amount of swelling on her face.
Animal Control contacted Pet Helpers to take the pup into their foster program because she allowed the shelter staff to handle her, in spite of her obvious pain. Pet Helpers took her to their vet for assessment, and to begin a treatment regimen. She was given the name of Venus, after the goddess of love and beauty. Believed to be 8-10 months old, Venus quickly won the hearts of all she met with her sweet, gentle nature and beautiful, brown eyes.
Over the next two and a half months, Pet Helpers volunteer and Venus' foster mom, Kathy "Mim" Vincent, cared for Venus as she recovered. Mim administered ear, skin and eye medications to alleviate the pain and discomfort Venus felt. She took her for weekly dips to eradicate the chronic mange that covered her body. She gave Venus supplements to help her coat to grow, and hopefully cover the many scars on her body.
As Venus healed on the outside, Mim helped her to recover on the inside, as well. Venus made friends with everyone she met, and loved to visit local schools, where she and Mim taught the children the importance of caring for their pets. Mim also posted photos of Venus' recovery on the Pet Helpers Facebook page, where Venus developed quite a fan club.
Along with thousands of others, my husband and I followed Venus and Mim's story. We had rescued a Pit bull a year earlier, and were seeking a companion for him. Our boy, Arlo, also had a painful past, and had stolen our hearts. He amazed us with his resilience and willingness to love and trust us, after other humans had treated him poorly. We thought that perhaps Venus would be a good match for Arlo, and contacted Pet Helpers in January, 2014. After meeting Venus, we knew she would melt Arlo's heart as she had ours. We planned her "Gotcha Day" after her mange treatments were complete, she was spayed, and she had surgery on her eye lids, to keep her eye lashes from scratching her beautiful, brown eyes.
January 25th, we met Mim and Venus at Petco, and made her adoption official. She has settled in nicely with our pack, and she and Arlo are never apart. She sleeps in a nice, warm bed and has a full belly. Her coat is becoming a beautiful, silky blonde and she loves to give kisses.
We are so happy that Venus has joined our family! And we are so very thankful for Pet Helpers and their foster families, for the love and compassion they freely give to dogs and cats whom others have thrown away. They see the value in every four-legged soul, show them that not all people will disappoint them, repair their fragile bodies, and selflessly send them on to a new, forever home. Because of them, Venus not only has a dad and mom, but will always have her Mim, as well.
---